S'mores Brownies

Hi guys! It's Karly from Buns In My Oven. I'm filling in for Katrina today while she cuddles in bed with her boys, recovering from surgery. At least, that's what I hope she's doing. No dishes, no laundry, no cooking. Just cuddling. I have it on good authority that her husband is taking very good care of her, so I'm sure I'm right.
Anyway, can we talk about Katrina for a second?
The first (and only) time I met her was at a food conference. I walked in the door and she ran right up to me, grabbed my arm, and said "you can sit by me!" Then she felt like a weirdo and started apologizing for kidnapping me. You guys. I had never loved her more than I did right then. I hate walking into a conference and wondering who is going to be nice to me and let me sit by them. I feel like the new kid in the cafeteria on their first day of high school. She totally saved my life by letting me sit with the cool kids. I will love her for always. Katrina is just as sweet in person as she is online.
Okay, enough mushy stuff, because gross.
I made y'all some s'mores. I don't know about you, but around this time every year I start thinking about all of the s'mores I missed out on over the summer. I'm not much of a campfire kind of girl (if we could only figure out how to bring the fire inside, with the air conditioning and lack of bugs…), so I don't always get a lot of traditional s'mores. I have to go a little crazy in the kitchen to get my fix. This time around, I'm doctoring up a box of brownie mix. You can certainly use your favorite recipe, but I like to cheat every now and then. Shortcuts are my friend.
So, I hope you enjoy these heavenly little ooey gooey treats! And, Katrina? I love you, girl. Get better. I miss your face.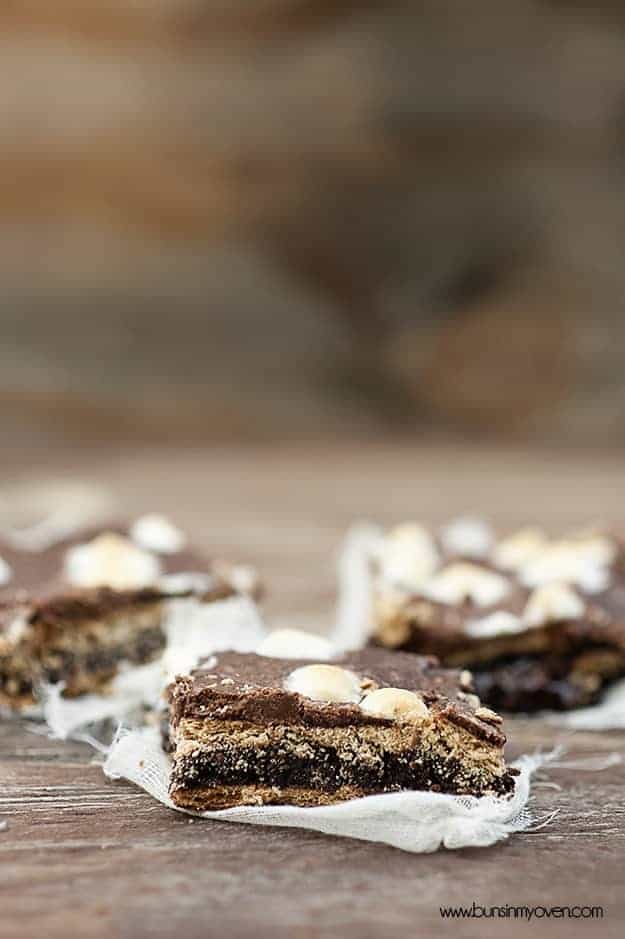 S'mores Brownies
Ingredients
1

box brownie mix

,

prepared according to the package, but not baked

12-

ish graham crackers

2

cups

mini marshmallows

3

Hershey's bars
Instructions
Prepare the brownie batter as directed on the box and preheat the oven to 350 degrees.

Spray a 9x13 baking dish with cooking spray.

Line the bottom of the baking dish with graham crackers, breaking them into pieces to fit as needed.

Pour half of the brownie batter over the graham crackers. Top with 1 cup of the mini marshmallows. Break the Hershey's bars into pieces and place half of the pieces on top of the marshmallows.

Top with the remaining graham crackers as evenly as possible. Pour on the remaining brownie batter, top with the rest of the marshmallows and Hershey's bar pieces.

Bake according to package directions or until the brownies are baked through.