Praline Pecan Chocolate Chip Cookies
I think I laugh every day. Maybe I should try to keep track and test that theory out. I could get a special Laugh Calendar and put smiley face stickers on the days that I laugh. But that might stress me out. I mean what if I get to the end of the day and still no sticker? There's nothing worse than trying to make yourself laugh. Well, there are actually a lot of things worse. For example, laughing when you are not supposed to. For me uncontrollable laughter usually happens at the most inappropriate of times.
High school algebra class: I got kicked out for laughing. Probably about losing count of the number of ceiling tiles. This happened more than once.
College campus-wide mandatory gathering: I made a whole row of people laugh from my infectious laughter. Who even knows what that was about. I think a professor was eating his knuckle hair.
My son's school play: What can I say? He's so cute that he makes me want to giggle.
Church: Too many times to list.
I'm not a pretty laughter either. Usually it is loud. There are often tears involved. Sometimes snorting, chin-quivering, and gasping for air. I guess I'm a glutton for punishment though because I surround myself with funny people.
That was the long way to say I think today's guest blogger is funny. Really, really funny. Please welcome Kristan from Confessions of a Cookbook Queen. Don't read her blog at church.
Hey, In Katrina's Kitchen readers!! I'm Kristan from Confessions of a Cookbook Queen and I'm so happy to be over here spreading holiday cheer and sharing cookies with all of you. I live in Arkansas, and during the holidays in the south, pecans are a very big deal. People sit parked in parking lots and sell huge bags of unshelled nuts out of the back of their pick ups. And they cost like a zillion trillion dollars, not kidding. Personally, I'm not big on buying stuff from the back of pickups, plus one time when I was little I tried to crack a nut in the mouth of a Christmas Nutcracker. Care to venture a guess as to what happened next? Yeah. They only thing that cracked was the poor guy's wooden face. So. I buy my pecans at the store, shelled and packaged like a completely normal and boring person. But then awhile back as I was perusing the nut aisle (try and say that without laughing–can't be done) and I saw these:
And something magical happened. A white light shone down on them and the herald angels started singing. I knew they were meant to be mine. Okay so that was a lie. I was just like, "cool, those look good," and threw them in the cart. I mean, it was Walmart, people. Anyways, I got to thinking that these would be perfect for adding to Chocolate Chip Cookies. Since it's Christmas time, they add a fun flavor that makes them extra special. I decided to use my favorite Pudding Cookie recipe, but I subbed butterscotch pudding for vanilla to add some buttery, caramely flavor. They were delicious!
Praline Pecan Chocolate Chip Cookies Recipe
Chocolate chip cookies with praline pecans and butterscotch pudding
Ingredients
3

sticks margarine

3

eggs

1

cup

brown sugar

1/2

cup

white sugar

2

teaspoons

vanilla

3 1/3

cup

flour

1 1/2

teaspoons

baking soda

2

small boxes INSTANT butterscotch pudding

1 1/2

cup

chocolate chips

1 1/2

cup

praline pecans

,

chopped
Instructions
Preheat oven to 350.

In the bowl of a mixer, cream margarine, eggs, brown sugar, white sugar and vanilla on medium speed for about a minute, until smooth.

In a separate bowl, stir together flour, baking soda, and both packages of pudding. Add to creamed mixture and beat on medium low until fully combined.

Fold in chocolate chips and praline pecans.

Drop by large spoonfuls on ungreased baking sheets. Bake for about 15 minutes or until edges are golden. Remove from oven and let cookies cool for a minute on the sheets, then remove to wire cooling racks.
I hope you have a fabulous Tuesday and I hope to see you over on my site Confessions of a Cookbook Queen. A huge thank you to Katrina for letting me visit!!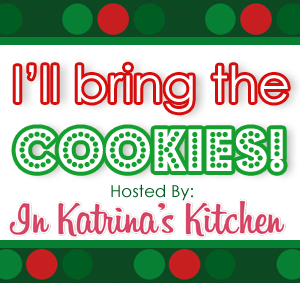 Click image to see all of the cookies shared.
Thank you to Kristan for bringing the cookies today! Be sure to check out Kristan's sweets. Here are some of my most recent favorites: Christmas Tree Cupcakes, Muddy Buddy Brownies, and Cherry Vanilla Dr. Pepper Cupcakes. Oh, and Kristan is trying to become Queen of all Internet-land so she is also blogging over at That's What She We Said with Shelly of cookies and cups. Go take a peek!