Spritz Cookies
Are we having fun yet?! Day 4 of cookies and we're talking Spritz today with Amanda from Fake Ginger. If you don't already follow her blog then go fix that right now. I love her blog because she posts about food that my family would eat. I have made many of her recipes multiple times. Amanda and I met through twitter, and if you don't tweet then I just can't explain to you how you can become friends with somebody over there. It just happens.
Even though Amanda and I have never met I was nervous and excited for her when she was in the hospital expecting her 3rd little guy. And since my real life friends can only smile and nod for so long while I talk about html code, page formatting, and photography it's nice to have friends like Amanda around. That and she's funny. I like to laugh. That is all. Take it away, Amanda!
Hi y'all! I'm so excited to be bringing some cookies to the cookie party today! If you don't know me, I'm Amanda and I blog over at FakeGinger where I make more bread than my waistline can handle and talk about Real Housewives entirely too much.
When Katrina emailed me about participating in I'll Bring the Cookies, I responded immediately. A month of cookies? Uhh.. how do you say no to that?! I had a horrible time deciding which cookies to bring and eventually realized that the cookies I look forward to most around the holidays are those butter cookies you buy at the drugstore. You know the ones. They come in a little blue tin and can be found buried under a pile of clothes in my closet well into March. I love them.
I used my cookie press to make them even more holiday-ish (if you don't have one, they can be found just about everywhere this time of year – or you can simply roll the dough into a log, refrigerate for a few hours, thinly slice, and bake) and lots of green and red sprinkles!
These cookies absolutely melt in your mouth, almost like a shortbread! They are rich and buttery and the sprinkles on top add the perfect tiny crunch. If you're looking for a way to add some fun to your holiday cookie platter, I definitely recommend these little guys!<
Spritz Cookies Recipe
Classic spritz cookies- A Martha Stewart recipe
Ingredients
3

cups

all-purpose flour

1

cup

powdered sugar

1

cup

2 sticks unsalted butter, cut into pieces

½

teaspoon

salt

4

large egg yolks

1

teaspoon

vanilla

egg wash

,

1 egg white & 2 teaspoons of water, whisked

sprinkles

,

for decoration
Instructions
Preheat oven to 350F.

Place flour, sugar, butter, and salt in the bowl of a food processor; process until the texture resembles coarse crumbs.

In a small bowl, whisk together egg yolks and vanilla; add to the processor with the motor running. Process until the dough forms into a ball.

Fill your cookie press ¾ of the way full (do not chill the dough!) and form cookies on cool, ungreased baking sheets according to manufacturer's instructions.

Use a pastry brush to brush the cookies with the egg wash and decorate with sprinkles as desired. Bake for 10 - 15 minutes until the cookies are firm but not brown. Cool completely on a wire rack.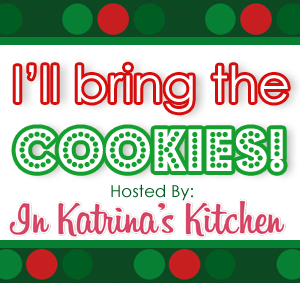 Click image to see all of the cookies shared.
Thank you to Amanda for bringing the cookies today! Be sure and check out Fake Ginger for recipes like Bang Bang Shrimp, Pumpkin Pizzelle Cannoli, and Caramel Apple Cinnamon Rolls.