Sweet and Salty Buttered Popcorn Cookies
GUEST POST: Sweet and Salty Popcorn Cookies from Dine & Dish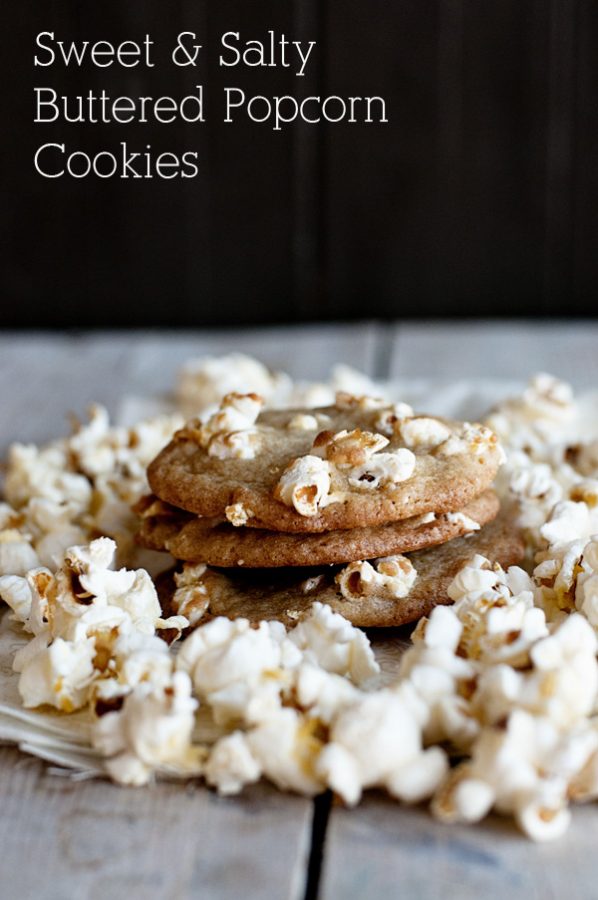 I love sweet things, and I love salty things. I love it the most when sweet and salty come together, don't you? Like Kettle Corn. It has those easily addictive tendencies, with one bite sweet, one bite salty, one bite sweet and salty. It teases your tongue, making you go in for more just to see what you'll get next! Since Katrina is having a cookie party, I thought… "what about bringing a cookie that is somewhat sweet and somewhat salty?" I decided these sweet and salty buttered popcorn cookies would be just the right treat to bring!
I like to use this method for popping popcorn on the stovetop, but I also think the slightly salty Homestyle Microwave Popcorn from Pop Secret would be really delicious for this recipe as well. I hope each and every one of you have a wonderfully delicious holiday season. Thanks so much for welcoming me here on Katrina's blog and thank you, Katrina, for sharing your wonderful space with me! Enjoy!
Sweet and Salty Buttered Popcorn Cookie Recipe
Sweet and Salty Buttered Popcorn Cookies
Ingredients
1/2

cup

butter

,

softened

1/2

cup

sugar

1/4

cup

brown sugar

1

egg

1

teaspoon

vanilla extract

1-1/4

cups

all-purpose flour

1/2

teaspoon

baking soda

1/4

teaspoon

Kosher salt

2

cups

popped popcorn

,

coarsely chopped

1

Tablespoon

butter

,

melted (for the popcorn)

1/4

teaspoon

Kosher salt

,

for the popcorn
Instructions
Preheat oven to 350°F

In the bowl of a stand mixer, add butter and sugar. Mix until well blended, then add 1 egg and vanilla. Beat on medium speed until light and fluffy.

Slowly add flour, baking soda and 1/4 teaspoon salt. Continue mixing until well combined.

Meanwhile, toss popped popcorn with butter and 1/4 teaspoon Kosher salt.

Gently fold prepared popcorn into the cookie dough, until well incorporated. Spoon teaspoons of dough onto a parchment lined cookie sheet, 1 inch apart.

Bake for 14-16 minutes or until edges are slightly crispy.

Remove from oven and allow cookies to sit on the cookie sheet for 2 minutes prior to moving to finish cooling on a wire rack.
I could probably go on and on about my friend Kristen. If you don't know her you will become instant friends with her. She has the most positive attitude and she surrounds herself with joy. I love her blog with delicious food, beautiful photography, and an honest look inside her life.
You can connect with Kristen on Facebook, Twitter, Pinterest, and her blog Dine & Dish. If you want more of her mouthwatering cookies here are a few to get you started:
Soft and Chewy Vanilla Butter Cookies
Thanks for bringing the cookies, Kristen!