Small Batch Snickerdoodles
This post may include amazon links. As an Amazon Associate I earn from qualifying purchases.
GUEST POST: Small Batch Snickerdoodles from Dollhouse Bake Shoppe
Hi In Katrina's Kitchen readers! I'm Lindsay Ann, the doll behind Dollhouse Bake Shoppe. Nice to meet you all, I'm so excited to be here contributing to the "I'll bring the cookies" 2012 holiday fun! Over at DollhouseBakeShoppe.com I share my small batch dessert recipes, bite size holiday and party treat tutorials, mini baking tips & tricks and more, so you can "bake your cake and eat it too" by indulging in moderation. Be sure to stop by and say hello, a friend of Katrina's is a friend of mine!
Today I am sharing with your my small batch twist on the classic cinnamon sugar coated cookie, SNICKERDOODLES. I love anything cinnamon sugary and the warm spice makes them a real holiday time favorite. These little cookies are packed with flavor. Their crispy edges, chewy center, and buttery flavor make it almost impossible to eat just one. Although they aren't as fancy as other decorated cookies and aren't dipped in chocolate or covered in frosting, these are one of my favorite cookies ever, along with my good ol' standby, the Chocolate Chip Cookie, of course.
A traditional snickerdoodle calls for cream of tartar to add it's signature tangy flavor. With my addition of browned butter and brown sugar, this recipe really sets these cookies apart from any other snickerdoodle. They browned butter lends a warm nutty/toffee flavor and mixed with the brown sugar, the caramel notes take these cookies to the next level. Hope you like them!
Small Batch Snickerdoodles Recipe
Snickerdoodles- for when you only want a few
Ingredients:
4 tablespoons (1/2 stick) unsalted butter, melted and browned

2/3 cup (80g) all-purpose flour

1/2 teaspoon cream of tartar

1/4 teaspoon baking soda

 1/8 teaspoon salt

3 tablespoons granulated white sugar

3 tablespoons packed light brown sugar

1 large egg yolk plus 1 1/2 teaspoons egg white

1/2 teaspoon pure vanilla extract

• 1 tablespoon granulated white sugar

• 1 teaspoon ground cinnamon
Directions:
Preheat the oven to 400° F. Line baking sheet with parchment paper.

Melt butter in a small saucepan. Stirring constantly, continue to cook butter until brown specks start to appear at the bottom of the pan and the butter has turned a light amber color, giveing off a warm nutty/toffee scented aroma (about 3-5 minutes). Immediately remove from heat and pour into a medium heat proof bowl. Let cool

In a small bowl, whisk together flour, cream of tartar, baking soda and salt. Add the sugars to the butter and beat until light and fluffy. Beat in the egg and vanilla. Gently mix in flour mixture just until combine. Cover dough with plastic wrap and chill in the fridge or freezer until firm, about 10-15 minutes.

In a shallow bowl, combine the sugar and cinnamon for the coating. Roll dough into 8 balls. Roll balls in cinnamon sugar until well coated and place about 1-2 inches apart on prepared baking sheet.

Bake for about 8 minutes, until edges just start to turn golden brown but centers are still soft and puffy. Do not over bake. Cool on cookie sheet for 3 minutes and then transfer cookies to a wire rack. Store at room temperature in an air tight container.
If you are interested in checking out more of my Holiday recipes and treat ideas, be sure to stop by my Holiday Roundup!
I hope you enjoyed my recipe! I am so honored to be a part of the "I'll bring the cookies" series this year. Can't wait to see all of the other fabulous Holiday cookies. Thanks for reading and happy holidays!
Lindsay Ann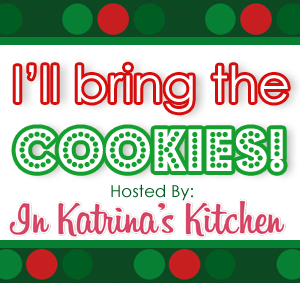 Click image for all #BringtheCOOKIES and Giveaways
You might know Lindsay Ann from a little show called CUPCAKE WARS…where SHE WON in 2010!! Yes I am not even kidding! If you don't remember you can watch her 10 minute Cupcake Wars highlight reel– I even knew how it was going to end but I was still nervous for her! 🙂
You can connect with Lindsay Ann on Facebook, Twitter, Pinterest, and her blog Dollhouse Bake Shoppe. Here are a few more delicious cookies from Lindsay Ann:
Small Batch Chipless Confetti Cookies
Small Batch Mint Chocolate Chip Cookies
Small Batch Red Velvet Sandwich Cookies
Thanks for bringing the cookies, Lindsay Ann!