Peppermint Shortbread Cookies
GUEST POST: Peppermint Shortbread Cookies by Shugary Sweets
Hey friends! It's Aimee from Shugary Sweets bringing you a fun recipe today! I'm so excited that Katrina asked me to be a part of this I'll Bring The Cookies series! I adore her and her blog, and secretly wish I lived next door (well, not so secretly now)!
I love this time of year, when everyone is baking delicious treats for Christmas! However, sometimes I feel like classic recipes can go a long way. Shortbread cookies are a classic to me. And with a base recipe as yummy as mine, you can change these up so many ways!
I made you some delicious shortbread cookies then dunked them in dark chocolate and crushed peppermint candy canes! So buttery, minty…amazing! One bite and I think you will agree!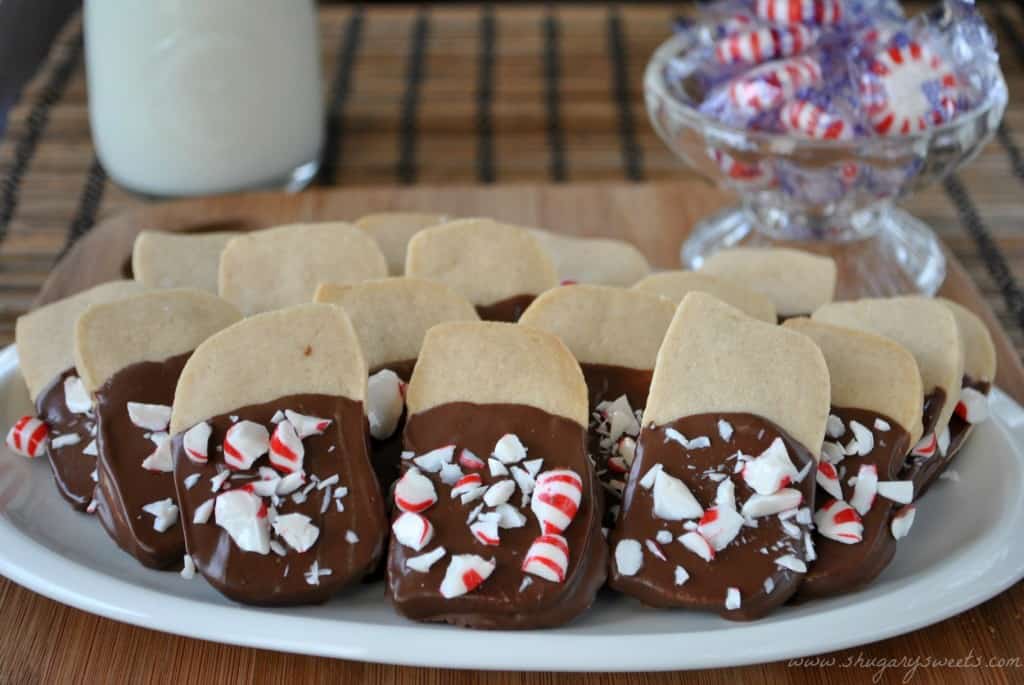 Anyways, back to the peppermint shortbread cookies. If you enjoyed this recipe, you may also enjoy some of my other favorite peppermint recipes…(I clearly have a chocolate peppermint addiction)!
Chocolate Peppermint Cheesecake Cake- a rich dark chocolate cake surrounding a layer of peppermint cheesecake. Frosted with peppermint buttercream. YUM!
Chocolate Brownies with Peppermint Buttercream– simple brownie bites topped with a swirl of peppermint frosting and topped with a peppermint candy!
Chocolate Peppermint Biscotti– chocolate biscotti dipped in white chocolate and crushed peppermint candy canes; perfect with your cup of coffee!
Thanks again for having me here today Katrina!
Peppermint Shortbread Cookies
Ingredients
1

cup

unsalted butter

,

softened

1/2

cup

powdered sugar

2

cup

all purpose flour

1/4

tsp

kosher salt

1 1/2

tsp

vanilla extract

1 1/2

cup

dark chocolate

,

melted

20

peppermint candies

,

crushed in large pieces
Instructions
Cream butter and powdered sugar for 2-3 minutes until thoroughly combined. Add in flour, salt and vanilla. Mixture will be crumbly. Use hand to combine crumbs into one large dough ball (may take a few minutes).

Lay out a large piece of plastic wrap. Drop dough onto plastic, roll plastic wrap over dough. Shape dough into a log (about 2 1/2 inches diameter...rolling it on your countertop with the palms of your hand). Place wrapped dough in refrigerator for at least 30 minutes.

Slice into 1/4 inch cookies and place on a parchment paper lined baking sheet. Bake in a 350 degree oven for 10-13 minutes. Cool completely on wire rack.

Dip one end of cookie into melted chocolate, sprinkling immediately with peppermint pieces. Lay on parchment paper to set up (about one hour). Makes about 50-60 cookies! Store in air tight container. ENJOY!
Aimee has lots and lots of treats for you so I don't know why you are still here. Some other cookies from Aimee to get you started:
Cherry Almond Sandwich Cookies
Thanks for bringing the cookies, Aimee!