Gingerbread Drop Cookies with Peppermint Cream Cheese Frosting
This post may include amazon links. As an Amazon Associate I earn from qualifying purchases.
These gingerbread drop cookies are a fun twist on a traditional flavor. They save time in the kitchen and you will love the festive peppermint cream cheese frosting. GUEST POST by the decorated cookie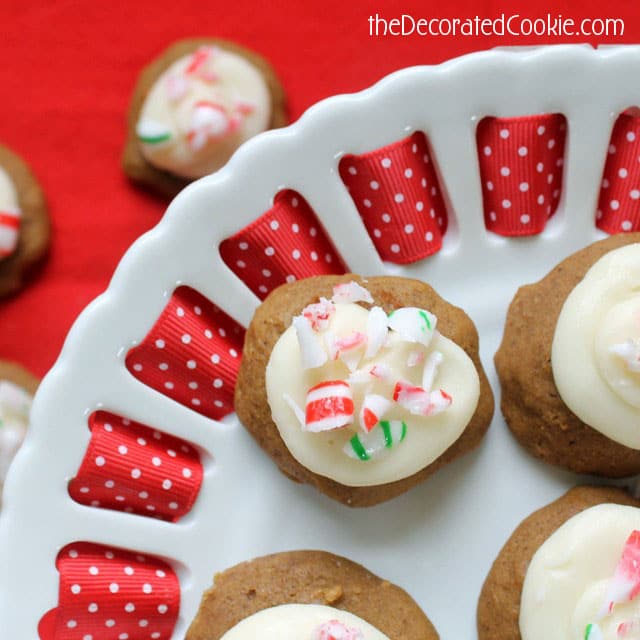 My oh my, this is the third year I've made some goodies for In Katrina's Kitchen I'll Bring the Cookies holiday virtual party. This year, it feels even more poignant to celebrate the holidays with my dear friend, Katrina. She has had one heck of a time these past few months in her battles with health, a battle I know very well. That knowledge has me thinking so often of the lovely Katrina, and she of all people deserves to have a mound of cookies in her house at all times. I hope Katrina and all of her readers have happy, healthy holidays this year! Scratch that, I mean every year.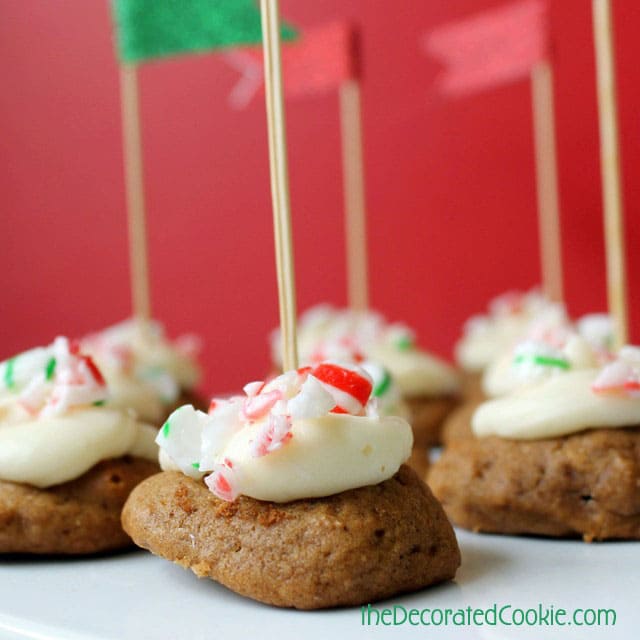 The person hiding behind the computer over here is Meaghan, and I blog at the decorated cookie. Two years ago, I made these tiny, frosty "cranberry" cookies. Last year, I made these gingerbread cookie rings.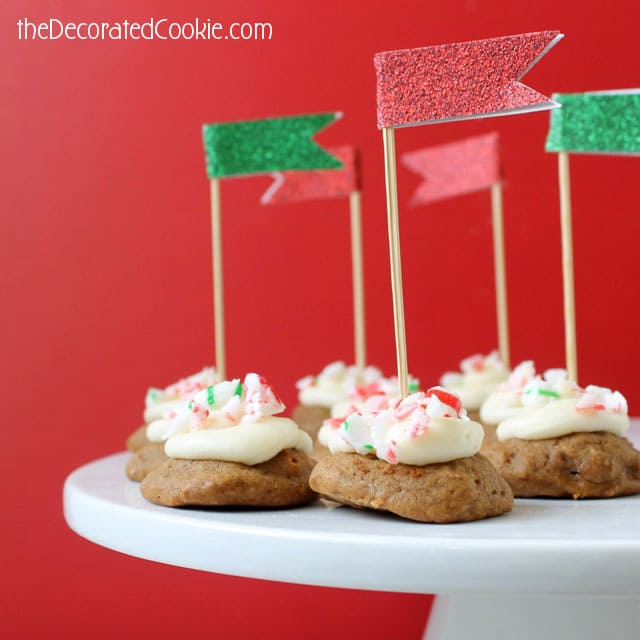 These gingerbread cookies are a bit different. They are drop cookies, so you can't use them for cut-outs. And they are a soft, cake-y cookie, not like the recipe I use for decorating cookies. These are an alternative version of my gingerbread whoopie pies, made more festive for Christmas.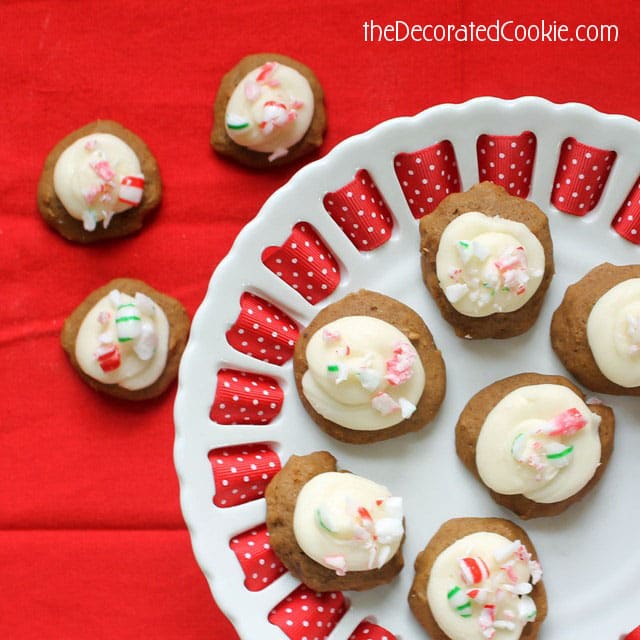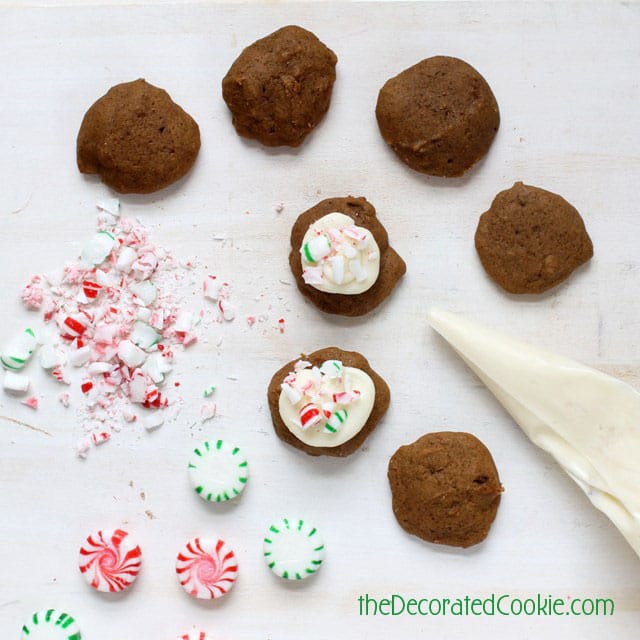 Mini Gingerbread Cookies with Peppermint Cream Cheese Frosting
Yield: Makes 70 mini cookies, less for larger cookies.
Gingerbread drop cookies are a fun twist on a traditional flavor. They save time in the kitchen and you will love the peppermint cream cheese frosting.
Ingredients:
For the cookies:
2 1/4 cups all-purpose flour
1 teaspoon salt
1 1/4 teaspoons baking soda
1 tablespoon ground ginger
2 teaspoons ground cinnamon
1/2 teaspoon ground nutmeg
1/2 teaspoon ground cloves
1 stick butter (1/2 cup), softened
2/3 cup brown sugar, packed
1 egg
1 teaspoon vanilla extract
1/4 cup molasses
1 cup buttermilk
For the frosting:
1 stick (1/2 cup) of softened butter
1 8-ounce package of softened cream cheese
3 cups confectioner's sugar
2 teaspoons of vanilla extract
box of candy canes or bag of peppermint candies
Directions:
For the cookies:
Preheat oven to 350° F.
Line baking trays with parchment paper and set aside. In a bowl, briefly mix together the flour, salt, baking soda and spices with a whisk and set aside. In a bowl with a hand mixer or in the bowl of a standing mixer fitted with the flat beater, cream the butter and brown sugar.
Add the egg, vanilla and molasses and blend well, scraping down the sides of the bowl as needed.
Add the dry mixture and the buttermilk alternatively to blend well.
Drop by teaspoonfuls on the baking trays, about 2 inches apart. Bake for 9 to 11 minutes or until the cake bounces back when pressed. Keep unused dough in the refrigerator while baking trays. Let cool completely.
For the frosting:
Unwrap candy canes or candies and place in a zip-top bag. Over a cutting board or dish towel, crush the candy with a mallet, rolling pin or hammer. Set aside.
With a hand mixer or in a standing mixer fitted with a wire whip, blend together the butter, cream cheese, confectioner's sugar and vanilla extract.
Notes:
 To frost the cookies:
You may spread the frosting with a knife or spatula, or fill disposable decorating bags (available at the craft store) with the frosting, close tightly with a rubber band, snip off about 1/2 inch from the tip and pipe to top the cookies. After topping with frosting, immediately sprinkle with crushed candy.
This post is part of our Third Annual I'll Bring the COOKIES Virtual Blogger Cookie Swap. Be sure to check back here every day in December leading up to Christmas where some of the best bloggers will be sharing their favorite cookie recipe! You can also follow along Facebook, Twitter, Instagram, and Google+ with the hashtag #BringtheCOOKIES. Thank you to OXO for being our exclusive #BringtheCOOKIES sponsor. Be sure to visit Meaghan's blog, the decorated cookie to enter a sweet OXO Baking Prize Pack.
More delicious cookie recipes from Meaghan:
Step-by-Step Guide How to Decorate Cookies