Gingerbread Cookie Rings
GUEST POST: Gingerbread Cookie Rings from the decorated cookie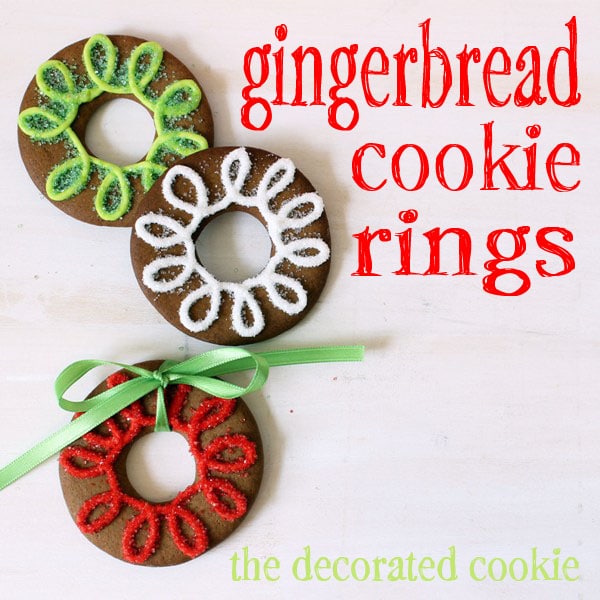 Hello cookie lovers! I'm happy to be back with more cookies, sharing this stage with such talented bakers. This year, I made some gingerbread cookie rings for you all.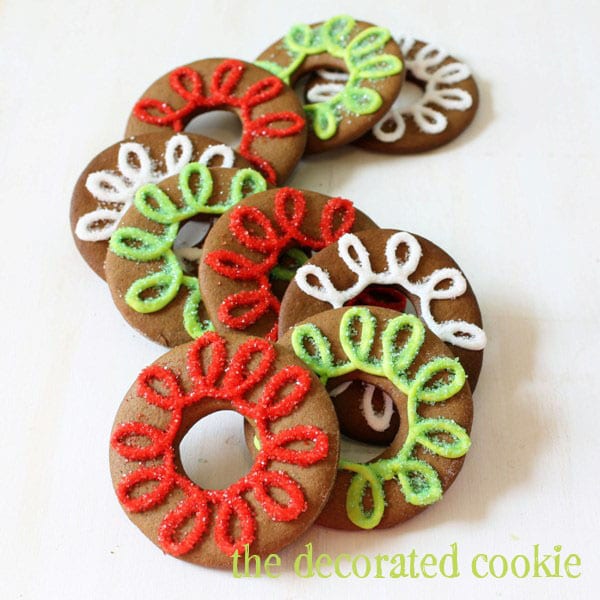 I'm sure I'm not the lone baker in this cookie party bringing gingerbread. And no wonder. The aroma alone evokes Christmas. But there are so many variations in gingerbread cookies. Soft? Crunchy? Spicy? This recipe is of the crunchy kind. Mildly spicy. Not too sweet. And perfect for building houses and cutting out cookies, because it holds its shape beautifully in the oven.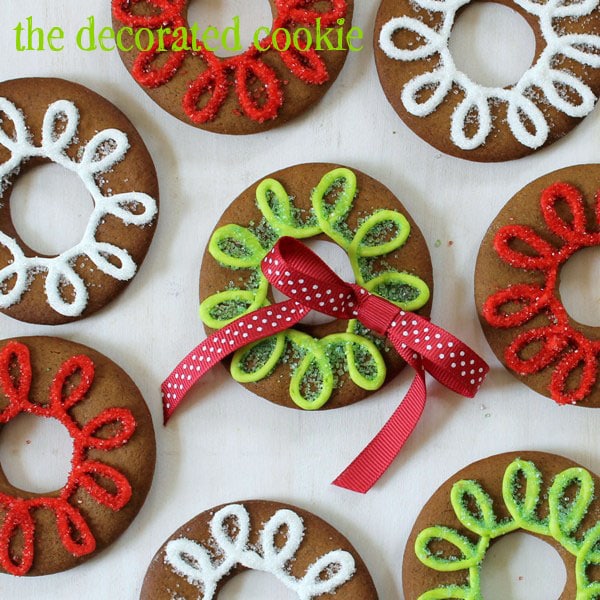 I chose to make cookie rings for their versatility. Tie a bunch together with a ribbon for gift giving, hang as ornaments, serve on platters, eat out of the oven, whatever… And they kind of look like mod wreaths, I think. Maybe perhaps. Or they could look more like wreaths if that is your thing. Decorate them however you like, with dots, swirls, stripes. I made this sort of swirly twirly ring shape.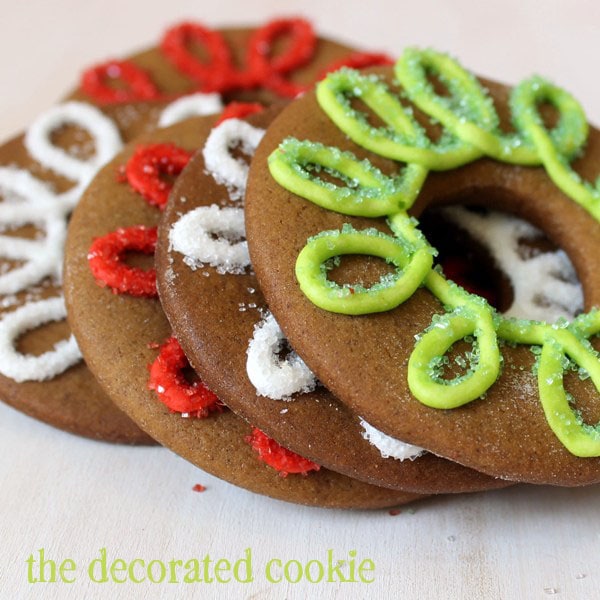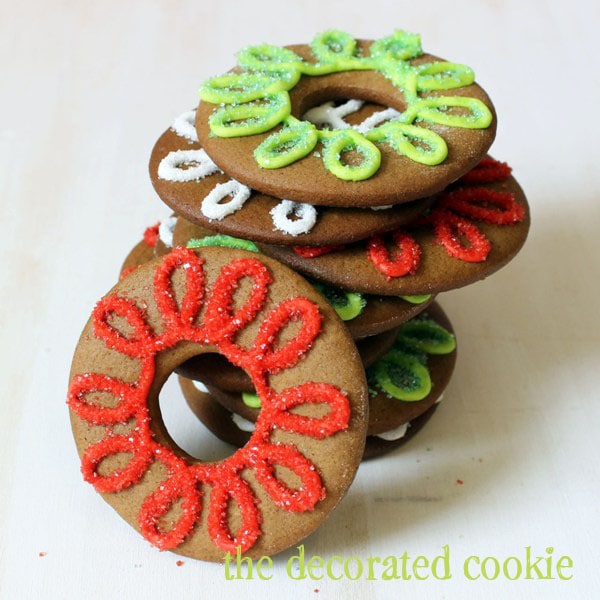 Gingerbread Cookie Rings Recipe
Gingerbread cookie rings- perfect for gifting...or eating!
Ingredients
3

cups

flour

½

teaspoon

baking soda

¼

teaspoon

baking powder

¾

teaspoon

salt

½

cup

unsalted butter

,

1 stick, softened

½

cup

dark brown sugar

,

packed

1

tablespoon

ground ginger

2

teaspoons

cinnamon

½

teaspoon

ground cloves

½

teaspoon

nutmeg

1

egg

¾

cup

molasses

1

teaspoon

vanilla extract

circle cookie cutters

parchment paper
Instructions
Mix the flour, baking soda, baking powder and salt together in a bowl with a whisk and set aside. In a large bowl with a handheld mixer or in a standing mixer fitted with a flat beater, mix together the butter and brown sugar on medium speed until fluffy. Blend in the spices. Blend in the egg, molasses and vanilla extract. Gradually blend in the flour mixture.

Wrap the dough and chill for 1 to 2 hours.

Roll the chilled dough out on a floured surface to 1/8-inch thickness. To make rings, use two different sized circle cookie cutters, sizes 3-inch and 1 1/4 –inch circles used here. Place the cookies on a baking tray lined with parchment paper. Bake in a preheated 350 degree oven for about 12 minutes, or until edges start to brown. Let cool completely before decorating.
How to Decorate Gingerbread Cookie Rings
you will need:* royal icing white, red and green food coloring 3 disposable decorating bags 3 couplers 3 decorating tips rubber bands white, red and green sprinkles *For food coloring, I suggest Americolor Soft Gel Pastes (Bright White, Red Red and Electric Green used here), available online and in specialty stores. Find the decorating bags, couplers, tips and sprinkles in the craft store. For the decorating tips, use sizes 2, 3 or 4, depending on your design and preference. what to do: Prepare royal icing, divide and tint white, red and green. Prepare three decorating bags with couplers and tips, fill with each color, and close tightly with a rubber band. Working with one cookie at a time, pipe your design, then immediately coat with sprinkles of a coordinating color. Turn the cookie over to remove the excess sprinkles. (TIP: Sprinkle each cookie over a small bowl and funnel the excess back in the bottle.) Let the cookies dry several hours or, preferably, overnight before wrapping and packaging.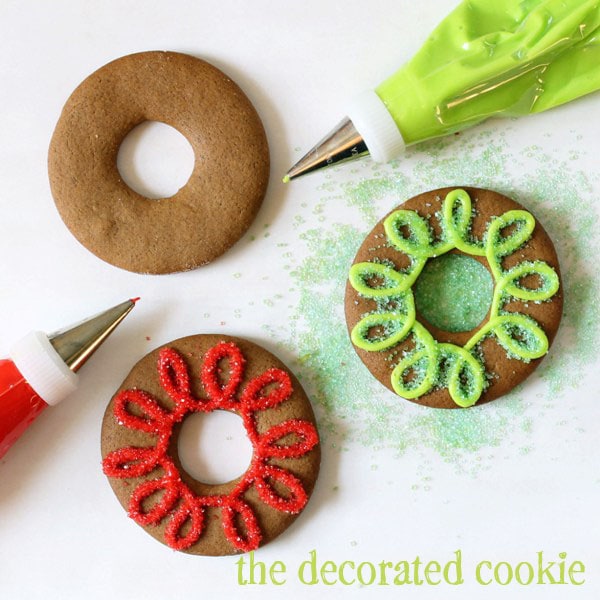 Thank you to Katrina for having me join the party! Happy baking and happy cookie-eating to you all!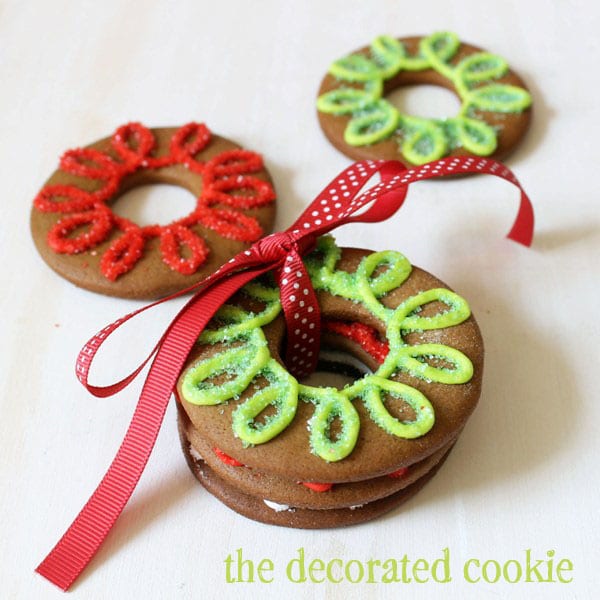 ~ meaghan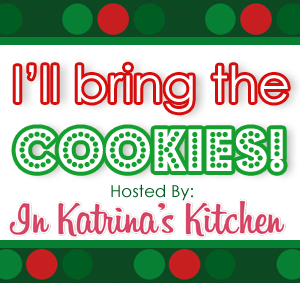 Click image for all #BringtheCOOKIES and Giveaways
You may have heard me gushing about Meaghan before. She's just the kind of person I know I will have a blast with when we finally get to meet, but that won't be anytime soon because she's busy having a baby (!!) ..like this week. So be sure to stop by her blog the decorated cookie and send your love and well wishes. Before she packed her hospital bags she was thoughtful enough to send along an autographed copy of her book Sugarlicious. Isn't she just the best? You can connect with Meaghan on Facebook, Twitter, and Pinterest.
Some more cookies from Meaghan that you may want to put on your holiday baking list:
Bite Sized Holiday Cookies in a Jar
Assemble Your Own Cookie Snowman Gift
This Giveaway is CLOSED. A winner has been chosen and the prize(s) have been fulfilled.
Please use the Rafflecopter entry form below. All entries must have a continental US mailing address and must be over 18. Sweepstakes will end 12/6/12 at 12:00am EST. Winner(s) will be announced here and will be contacted by email. Winner(s) must respond within 48 hours to claim the prize. Disclosure: I was not compensated in any way for this giveaway and all opinions are 100% my own. Good luck!