Mini Oatmeal Crème Pies
GUEST POST: Mini Oatmeal Crème Pies from Gimme Some Oven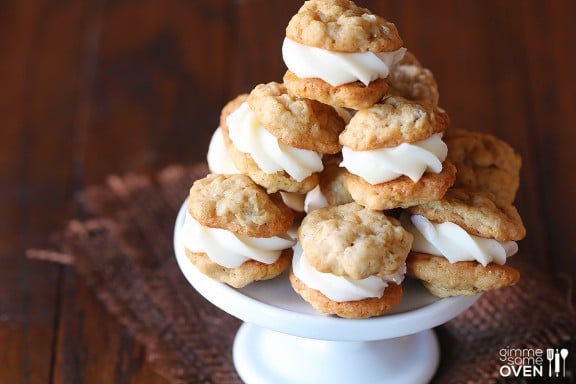 I'm so happy to be posting here today! I have long loved Katrina and her beautiful blog. And of course, I love cookies. So this seems like a match made in foodie heaven. 🙂 One of my favorite cookies are homemade oatmeal crème pies. I'm not talking about the ones you buy at the store and unwrap from the little plastic package. I'm talking about whipping up a thick batch of cream cheese frosting that makes you want to lick the beaters about ten times. And then sandwiching it between two warm, soft and chewy homemade oatmeal cookies. The result? A crazy good little cookie sandwich with just the perfect amount of sugar and spice, and just about everything nice.
But if you are serving these to a crowd, or to kiddos who you might not want to put on a complete sugar high, I've found that oatmeal creme pies are also fun to make "mini"-sized! You may do a doubletake at the marble-sized balls of cookie dough, but trust me, they are super cute and fun. My pup apparently thought they were too. I don't usually let him have "people" food, and he rarely tries to sneak any. But when I was photographing these, he literally walked right over to my photo table, unabashedly popped one in his mouth, and then looked right at me and wagged his tail as if to say "Oh yeah, mission accomplished". I guess I wasn't the only one who thought they smelled irresistible. Still, I'm pretty sure all of the people in your life will find these just as delicious. Cheers to more great cookies to come!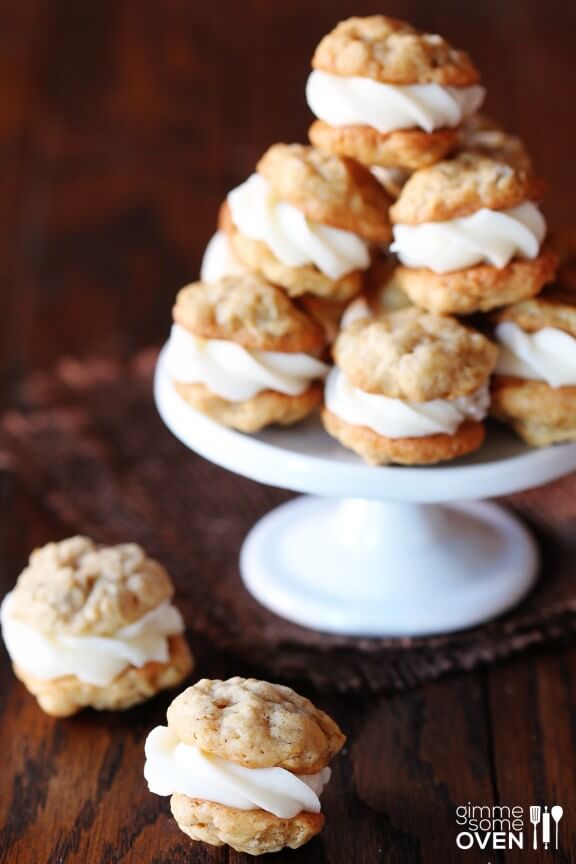 Mini Oatmeal Crème Pies Recipe
Move over Little Debbie- these mini oatmeal cream pies are perfectly proportioned
Ingredients
For the Cookies:

3/4

cup

butter

,

softened

1

cup

packed brown sugar

1/2

cup

granulated sugar

1

tsp.

baking powder

1/4

tsp.

baking soda

1

tsp.

ground cinnamon

1/4

tsp.

ground cloves

1/4

tsp.

ground nutmeg

2

eggs

1 1/2

tsp.

vanilla extract

1 3/4

cup

all-purpose flour

2

cups

rolled oats

For The Cream Cheese Frosting:

1

8 ounce bar cream cheese, room temperature

4

Tbsp.

butter

,

room temperature

4

cups

powdered sugar

1

tsp.

vanilla extract

1

tsp.

cinnamon
Instructions
For The Cookies:

Preheat oven to 375 degrees. Use an electric mixer to beat butter on medium-high speed for 30 seconds until smooth. Add brown sugar, granulated sugar, baking powder, baking soda, cinnamon, cloves and nutmeg. Beat until combined, scraping the sides of the bowl occasionally. Add in eggs and vanilla and beat on medium speed until combined. Add the flour and beat until just combined, then add in the oatmeal and beat until mixed. (The dough will be thick - you may need to do this last step by hand.)

Roll dough into small marble-sized balls (about 1 centimeter in diameter). Place on a baking sheet that has been prepared with parchment paper, and cook for 5-7 minutes, or until the cookies have flattened and just begin to brown around the edges. Remove and let the cookies rest for 1 minute in the baking sheet, then transfer to a wire rack and let cool. Once cooled, pipe or spoon about a tablespoon of frosting on the flat side of one cookie, then top it with a second cookie to make the creme pie "sandwich".

For The Cream Cheese Frosting:

In a medium bowl, mix together cream cheese, butter, and vanilla. Gradually add powdered sugar and cinnamon, mixing well until it's all incorporated.

Use immediately or refrigerate.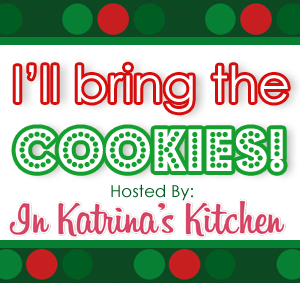 Click image for all #BringtheCOOKIES and Giveaways
I have a total blog crush on Ali! I hope that you will stop by her blog- it's adorable by the way. 🙂 She also features Gimme Some Film, Gimme Some Life, Gimme Some Reads, and Gimme Some Style. So if you do other things besides eat cookies you'll fit right in over there. She may be the most trendy and put-together person I know. For real. And I don't even know her.
You can connect with Ali on Facebook, Twitter, Pinterest, and her blog Gimme Some Oven. Here are some more delicious cookies from Ali:
Salted Caramel Chocolate Cookies
Thanks for bringing the cookies, Ali!