Cherry Limeade Pancakes
I'm over at Rachel Cooks today sharing the recipe for these fun Cherry Limeade pancakes. If you haven't heard she is having a whole month of pancakes so be sure to look around. There's something for everyone at the Pancake Party: S'mores, Bananas Foster, Lemon Poppyseed, and so many more! You all know I'm hardly ever conventional so I decided to convert my favorite summertime drink into pancakes. These reminded me of last summer when I made Cherry Limeade Popsicles and now I want them again in the worst way!!
I jazzed up my favorite classic buttemilk pancake recipe with a box of cherry Jell-O. Add a sweet and sour lime icing to dip and you are all set! Come over to Rachel Cooks to grab the full instructions for Cherry Limeade Pancakes. Also find out about my 12 year aversion to eggs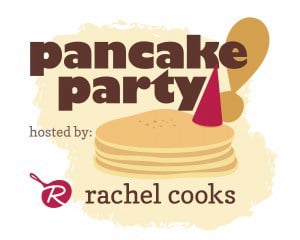 One more thing before I go- a few weeks ago I told you all that I am teaming up with Verizon Wireless (Chicago Eats and a New Adventure) to take a look at some of their products. I'm specifically looking for ways to use technology in the kitchen. So far I've loved using my Xyboard tablet for reading blogs, catching up on social media, and taking pictures with Instagram. I'm wondering- do you have any favorite Android apps that you use in the kitchen? I have some fun ones to share with you soon!
Disclosure: I am participating in the Verizon Wireless Midwest Savvy Gourmets program and have been provided with a wireless device and six months of service in exchange for my honest opinions about the product. I was not compensated for a postitive review.