Toffee Pretzel Peanut Butter Cookies
You are in for a sweet and salty treat today. There is a good chance that these are baking in my oven even as you read this guest post from Chef Dennis; I think my jaw hit the floor when I opened up the email containing it. Thank you Dennis for bringing the cookies today!
When I was first got the email from Katrina about her idea for December, I thought it sounded like fun!How could you say no to an idea that featured cookies all month long!So thank you Katrina, for inviting me to your month long party at In Katrina's Kitchen, and thank you so much for letting me kick off the series of guest bloggers that will be gracing your blog this month!
For those of you that don't know me, I'm Chef Dennis and it's my great pleasure today to be here with you today and share a new cookie recipe with you.I have to start out by saying that while I'm not really a baker, it is something that I truly enjoy doing.While I have made my fair share of cakes and pies, cookies are one treat that has eluded me.I do have my one go to cookie, courtesy of Alice Medrich, but I've pretty much beaten that one into the ground this year, and I knew I needed to expand my cookie repertoire.I started going through my cookbooks looking for inspiration, there were so many wonderful cookies to choose from, but in the end I decided upon a cookie that I had seen in my wife's December edition of Real Simple.The cover of the issue simply stated "30 impressive make-ahead cookies"and as I looked through the magazine, nothing really grabbed me and then I turned the page to the last cookie, and there it was…….sighIn all its peanut butter glory, looking at me……just begging to be baked.
The initial recipe was for Flourless Peanut Butter Cookies, but the picture showed a variation that tasty little cookie, that included broken pretzels and heath bar pieces!Need I say more?It was a no brainer, I mean how could I resist Toffee-Pretzel Peanut Butter Cookies!
Now these cookies were positively delicious!Being a novice cookie baker I did a few things wrong,1) I made the cookies a little too big 2) I overcooked them slightly because they looked too puffy and not done 3) I didn't think it mattered about moving them onto a wire rack…sigh
Ok, they were still delicious, just a little crunchier than I think they should have been, and you can see by picture how they cracked a bit.I think not cooking them quite as long would have eliminated some of the cracking.Next time I would refrigerate the dough prior to flattening them too, I don't know if it would help but it sounds like a good idea.All I can say is a little crunchy they were perfect for dipping in milk, and since I brought the cookies, you can bring the milk!Thanks so much for stopping by today, have a very cookielicious day!
Toffee Pretzel Peanut Butter Cookies Recipe
Flourless, sweet and salty, toffee, peanut butter, pretzel cookies
Ingredients
2

cups

creamy peanut butter

1

cup

light brown sugar packed

1

cup

granulated sugar

2

Large eggs

2

tsp

baking soda

½

tsp

salt

1

cup

broken salted pretzel pieces

1

cup

chopped chocolate covered toffee bars
Instructions
Preheat oven to 350 degrees F, line 2 baking sheets with parchment.

In a the bowl of your mixer, blend together the peanut butter, sugars, eggs, baking soda, and salt, until smooth.

Add in the broken pretzels and toffee bar pieces and fold into the mixture.

Shape the dough into balls (about 1 heaping tablespoon each) and place 2 inches apart on your parchment lined baking sheets.

Using the tines of a fork, flatten each dough ball, by making crisscross patterns on the cookie (it was really hard with the pretzels and toffee in the dough, but do the best you can).

Bake 10-12 minutes (rotating trays half way through) until puffed and golden.

Allow to cool slightly on the rack and then transfer to wire racks to cool completely.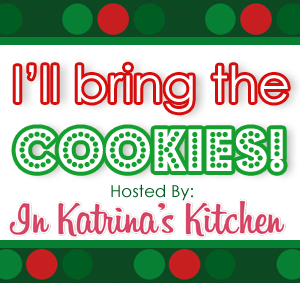 Click image to see all of the cookies shared.
Thanks again, Chef! Aren't you all glad that he challenged his comfort zone and brought the cookies today?! He's normally wowing us all with things like Chicken Venetian, Pumpkin Crunch Cake, and Eggnog Gelato. Okay, now will someone please pass the milk?