Peanut Butter M&M Bark
Please welcome another very funny and talented blogger, Shelly of cookies and cups! When I got this crazy virtual cookie party idea in my head there were a few people that I thought of immediately. So when Shelly responded to my email and even acknowledged my existence I think I did a little dance in front of the computer screen. Sorry for the visual image. It wasn't pretty. Let's be real; I didn't dance but I may have done a fist pump. Okay that sounds even worse. It was more like, "Oh cool" and then I replied with a polite and professional followup email. But inside I was dancing the Electric Slide.
Hello!!! Shelly from cookies and cups here. Hope you don't mind that I've taken up residence over here for the day. Katrina very graciously invited me and I very graciously accepted. So let's talk sugar, shall we? Being a dessert blogger is the best job ever. I get to bake, eat and take pictures. Sampling is necessary and important. And buying butter by the pound is completely justified. I can only imagine that the next best job would be an ice cream flavor inventor… or a make-up sampler. Is that a job? If it isn't, it totally should be. I would be awesome at it.
The one thing, though about having my site, is that people are always expecting you to bring delicious treats wherever you go… If you show up to a party sans sugary dessert people get all disappointed and stuff. I guess it comes with the territory. So here's the easiest, most yummy treat that you can whip up for any party in less than 5 minutes. It's perfect for holiday gifting or just snacking at home.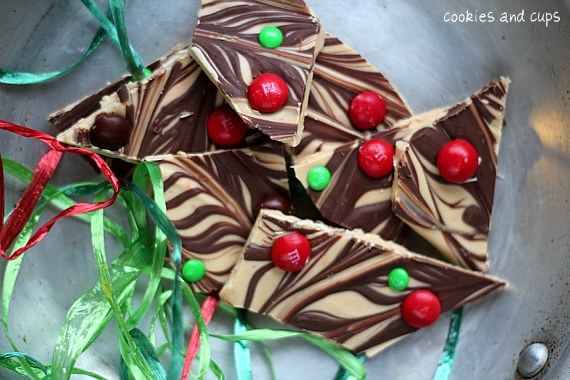 Peanut Butter M&M Bark Recipe
Peanut butter and chocolate swirled bark with M&Ms
Ingredients
1

lb.

Vanilla almond bark

,

or white chocolate chips

12

oz

creamy peanut butter

12

oz.

semi-sweet chocolate chips

1 1/2

cups

Peanut Butter M&Ms
Instructions
Line a baking sheet with foil. Melt almond bark in a microwave safe bowl, according to package instructions. Immediately stir in peanut butter until smooth.

Melt chocolate chips in a separate bowl at 50% power for 30 seconds. Continue microwaving until melted, stirring after every 30 seconds.

Spread the melted white chocolate/peanut butter onto prepared pan. Drizzle melted semi sweet chocolate on top and swirl into white chocolate peanut butter using a knife. Immediately sprinkle your M&Ms on top. Put in fridge to set. When set cut into pieces.

Store in an airtight container in fridge.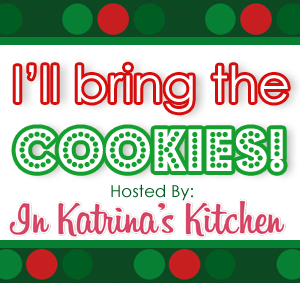 Click image to see all of the cookies shared.
Now *you* are doing a little dance, right? I saw that. If you don't listen to another word I say ever please listen to me when I say that you must check out her Reese's Stuffed Oreos. She also makes crazy-awesome things like Reeses Peanut Butter Banana Bread and Ice Cream Cone Cannolis. And don't forget that she blogs over at That's What She We said with Kristan too. 🙂