Holiday Funfetti Shortbread Cookies
GUEST POST: Holiday Funfetti Shortbread Cookies from Rachel Cooks
Today is my due date. I'm just going to go ahead and throw that out there. So while you're reading about these cookies, I might possibly be giving birth to our baby boy (but hopefully I already have). Appetizing, no? Katrina–I apologize in advance if I don't promote these cookies on Facebook and Twitter. I'm so happy that Katrina is hosting I'll Bring the Cookies again this year! I had so much fun doing this last year and am thrilled that she is making it an annual event. I wasn't about to let some minor little detail like a due date get in my way of participating! I'll just make Christmas cookies in October. We can always use a little holiday cheer, right?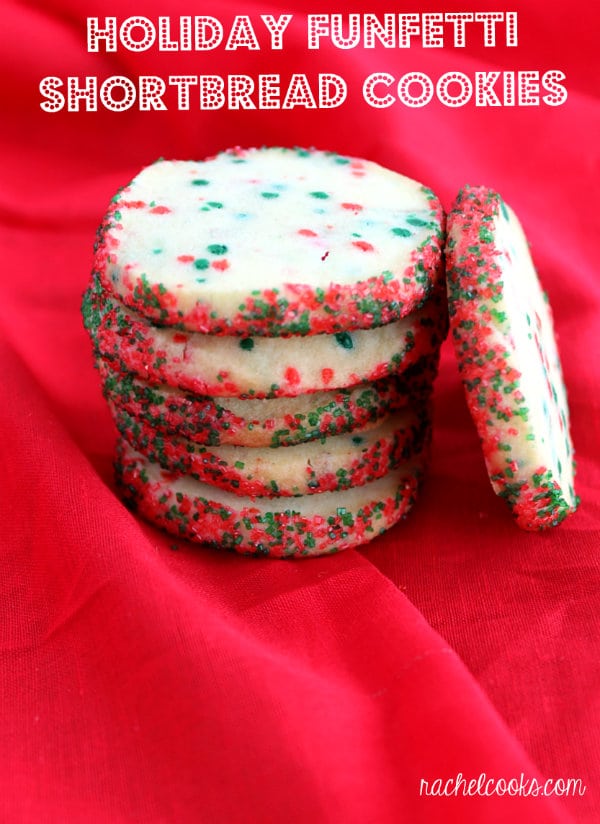 The best part about these cookies is that you can make them in advance, throw the log of dough in the freezer and slice and bake them when you need them. Unexpected guests dropping by? Impress them with freshly baked cookies. I've used this trick a million times. Huge time (and stress!) saver.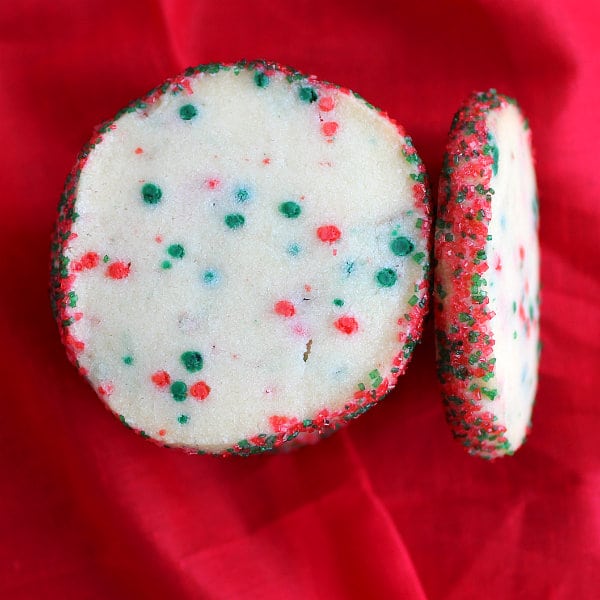 Verdict: I love shortbread, so I could be biased, but I thought these were great. I love how festive they look…and of course, how easy they are to make.
Husband's take: Being a traditional chocolate chip cookie guy, these weren't his favorite. He complained that they were too salty. You can definitely pick up on the salt in these. I'm a big fan of the sweet-salty combo, but if you tend to shy away from salt, feel free to scale back on the salt a little. My two year old loved these cookies though! She hasn't really met a cookie she doesn't like. Guess she takes after her momma.
Changes I would make: None are necessary, but these cookies would be so fun to customize for any occasion. Throw in some pink sprinkles for Valentine's Day, some blue sprinkles for a baby boy's baby shower…you get the point!
Difficulty: So easy!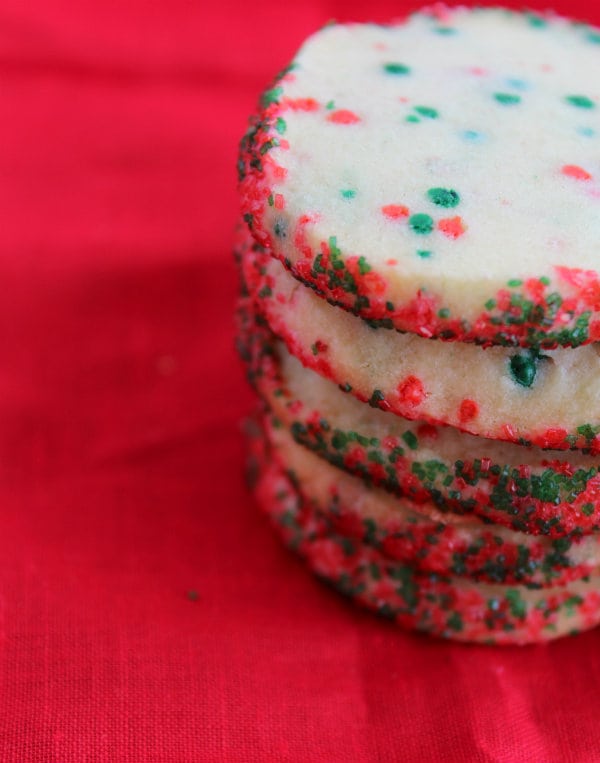 Holiday Funfetti Shortbread Cookies Recipe
Buttery shortbread cookies with festive sprinkles
Ingredients
1

cup

2 sticks unsalted butter, softened

3/4

cup

confectioners' sugar

1

teaspoon

vanilla extract

1 1/2

teaspoons

coarse salt

2 1/3

cups

all-purpose flour

1/4

cup

red and green sprinkles

,

jimmies

1/3

cup

red and green sugar for decorating
Instructions
In a stand mixer (paddle attachment), combine butter, confectioners sugar, vanilla and salt, blend until smooth. Add flour gradually and mix on low until just combined. Stir in jimmies using a spoon or your hands. Form dough into a 12- to 14-inch-long round log, wrap in plastic wrap and freeze until firm: at least 30 minutes.

Preheat oven to 350 degrees F. Cut dough into 1/4 inch thick slices. Roll edges in red and green sugar. Bake on parchment paper lined baking sheets for 15 to 18 minutes or until cookies are light golden brown around the edges. Cool for a few minutes on trays before removing cookies to wire racks to cool completely.
Isn't Rachel the sweetest? She's having a baby TODAY but she still brought cookies for all of us! If you know Rachel at all you will know that she has been a trooper through this pregnancy (she got sick daily…multiple times a a day in fact through the entire 9 months).
You can connect with Rachel on Facebook, Twitter, Pinterest, and her blog Rachel Cooks. Here are some of her delicious cookies to get you going in the right direction:
Cinnamon Vanilla Bean Meringues