Grasshopper Pie Cookies
I am so happy to welcome my friend Kita today. She blogs at Pass the Sushi and I just love everything she posts. She cracks me up too and that is good since I like to surround myself with funny people. She is much more awesome than I am. I like to think that she is living my life of 10 years ago but in a a waaaaaaaaaaaaay cooler kind of way. She told me that she wanted to score points with the little ones so she put the snow creatures in the pictures. Well, she succeeded because my son saw me putting this post together and he stopped flat and said, "MOM! Are we making THOSE?!"
Kita: 1
Non-cool people (me): 0
In case you can't tell, I take cooking seriously. I mean… you know, the way men take football – that seriously. I also take my family, the holidays and invitations to share my creations quite seriously as well. The moment Katrina asked me to participate in her December Cookie Extravaganza, I knew I couldn't resist. Stuffing meat, creating savory foods, smoking fish – those are all things I could create in an instant but… to come up with a new cookie decoration or recipe? Oh, this was going to take extra special talent.
So, I did what any young baker does, I called my dad. We had a few (really people, more than one) brainstorming session over flavors and ideas. Then we proceeded to attempt to execute these options (once again, more than once). Finally, I had to dump and entire tray of cookies in the trash and start fresh.
We wanted Grasshopper Pie Cookies and nothing less. It needed to be chocolately, minty, and Christmasy (I feel like that McDonald's commercial). Also, I wanted something that would fit Katrina's blog. She has kids and is always baking things that would make the eyes of a child huge with excitement. I wanted that kind of reaction to these cookies. I wanted children to be pulled towards these with an unexplained gravitational force. I wanted a cookie Santa would shove an elf to get to.
Our first batch was dry, second wasn't much better. You know what they say about the third time 😉 Sometimes 'they' are right. We didn't want a traditional sandwich cookie look, we wanted something that maintained a drop cookie feel and then there's the filling. The middle had to be like a traditional Grasshopper Pie, which meant no regular butter-cream would do – it was time to break out the special forces – Fluff. What kid doesn't like Fluff? If you tell me you were that kid, we may not be able to be friends any more.
And liquor. Did I mention the liquor? This is me after all. If I'm going to bother to get a kid all wired in anticipation for the big day, you had best believe I am going to sneak a little something in there to mellow out all that sugar. Just a little something, I promise… So here we go…
Grasshopper Pie Cookies Recipe
Fluffy creme de menth chocolate sandwich cookies
Ingredients
2

cups

flour

1/8

teas salt

1/2

teas baking powder

1

teas baking soda

2

sticks butter

,

divided

6

oz

bittersweet chocolate

3/4

cup

dark brown sugar

1

egg

1 1/2

teas vanilla

2

cups

marshmallow cream

1

cup

powdered sugar

1-2

tbs

creme de menth
Instructions
Whisk together flour, salt, baking powder, and soda; Set aside.

In a double boiler over simmering water, melt 1 stick butter with the chocolate. Whisk until smooth. Set aside to cool.

When chocolate cools to room temperature, in the bowl of a stand mixer or with a hand held mixer, add the brown sugar. Add egg and mix until combined. Slowly add the flour mixture until well combined, stopping to scrape the sides if needed.

Cover with plastic wrap and cool for at least one hour.

Preheat oven to 350 degrees F. Line baking sheets with parchment paper.

Remove cookie dough from fridge. Scoop out heaping tablespoons onto baking sheet. (The dough will be hard to scoop). Bake for 10-12 minutes.

Cool cookies on baking sheets for 5 minutes then move to a wire rack. When the cookies have cooled to a manageable temperature, use a sharp knife and safety skills to slice the cookies in half. Let cool completely.

Meanwhile, make the filling. Cream together the 1 stick butter with the powdered sugar. Add the marshmallow fluff and creme de menth.

For more minty flavors, add Andes mint chips to the dough, or brush the cooling cookie halves with creme de menth, or just add more liquor to the filling. I won't tell if you don't.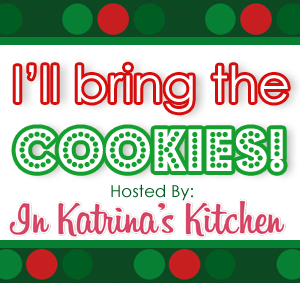 Click image to see all of the cookies shared.
Thank you to Kita for bringing the cookies today! If you shy away from baking with alcohol I think peppermint extract would be a fine substitute for the creme de menthe. On my to-do list from Kita's blog: Apple Cider Floats, Ranch Burgers, Boston Cream Pie, and pretty much everything else she makes. I mean she has a whole recipe tab called "Fat Kid Friendly," People.