Gingerbread Men Sandwich Cookies
I'm happy to host Sue who blogs at Munchkin Munchies today. She is always baking up fun a whimsical treats for her little munchkins. I've lost track of how many grandchildren she has – but I know they much have a blast at Grandma's house!
Hello Cookie Fans! When Katrina invited me to her cookie event I was so honored and excited! I am very happy to be here with her and all the other cookie bakers "In Katrina's Kitchen"! I just love her site; it's such a happy spot on the internet:) My name is Sue and the name of my blog is Munchkin Munchies. I love baking, especially with my munchkins (grandchildren) in mind.
I had such a hard time deciding on which cookie to make, but finally picked a classic Christmas cookie with a bit of a different spin, a gingerbread man sandwich cookie. The cookie recipe itself is a little more of a spice, butter cookie than a traditional gingerbread cookie, but it worked out great with the chocolate, marshmallow filling.
I was really happy with how all the flavors worked together just right. I used a gingerbread recipe that I hadn't used before and a filling recipe from another cookie that was found at parenting.com.
Gingerbread Men Sandwich Cookies Recipe
Soft gingerbread men cookies sandwiched with chocolate and marshmallow fillings
Ingredients
For the Gingerbread Cookies:

1 1/4

cups

sugar

1

cup

butter

,

softened

1

egg

3

tablespoons

molasses

1

teaspoon

vanilla

3

cups

all-purpose flour

2

teaspoons

ground cinnamon

1

teaspoon

ground ginger

1/2

teaspoon

baking soda

1/4

teaspoon

salt

Royal icing

For the Marshmallow Filling:

1/2

cup

chocolate chips

2

tablespoons

unsalted butter

1/2

cup

marshmallow cream
Instructions
For the Gingerbread Cookies:

Combine sugar, butter, egg, molasses and vanilla in large bowl. Beat at medium speed, scraping bowl often, until creamy. Reduce speed to low; add all remaining cookie ingredients.

Beat until well mixed. Divide dough in half; wrap in plastic food wrap. Refrigerate until firm (1 to 2 hours).

Heat oven to 375°F. Roll out dough on lightly floured surface, one-half at a time (keeping remaining dough refrigerated), to 1/8-inch thickness. Cut with 4-inch cookie cutter.

Place cookies, 1 inch apart, onto ungreased cookie sheets. Bake for 6 to 9 minutes or until set. Let stand 1 minute on cookie sheets; remove to wire cooling rack. Cool completely. Match up pairs of cookies that are similar.

Decorate half of them with royal icing details to look like gingerbread men. While the icing dries prepare filling.

For the Marshmallow Filling:

Place chocolate chips and butter in a microwave-safe bowl; heat about 1 minute, until just melted. Let stand for 30 minutes, or until slightly stiff.

Heat marshmallow cream in microwave for 10 seconds to soften. Spread marshmallow on a cookie, chocolate on another and sandwich together.
Thanks for being a great hostess, Katrina and inviting me to the party!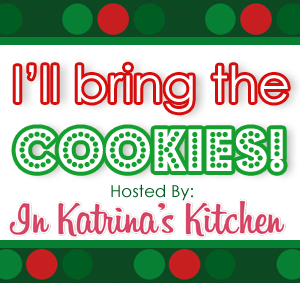 I told you she makes cute food! Some of Sue's other creations that I love: Fallen Leaves Cookies, Birthday Cake Brownie Pops, and Rudoph's Nose!