Chocolate Covered Cupcake Tops
I'm going to let you in on a little blogger secret today and it has to do with today's guest blogger. I am honored that Megan from What Megan's Making is joining us. She brought you CUPCAKE TOPS, people! I've lost you completely haven't I? If anybody is still reading then here's the secret: Megan was one of the very first blogs I started reading. I remember last year when I first heard about this whole food blogging thing Megan's was the among the first few that I checked back in with regularly. Who even knew that I would get completely immersed in this little blog world and have my own little Internet happy sugar place? And I can't help but feel a little bit emotional about Megan posting here today. I'm certainly humbled.
Gosh that got a little borderline mushy, didn't it? Well, no more reflection. On to what you came here for- COOKIES! More specifically Cupcake tops. CUPCAKE tops!! Somebody please tell me you've eaten just the top of a cupcake before?! I may or may not have some confessing to do.
Hello! I'm Megan from What Megan's Making and I'm so happy to be posting over here on In Katrina's Kitchen. This is a great idea she had and I'm excited to participate!
Every year in December I do something called the 12 Days of Christmas Treats where I post a new Christmas recipe every day for 12 days. You'd think that I would be burnt out on Christmas cookies, but no! When Katrina invited me to participate in I'll Bring the Cookies, I already had the perfect cookie recipe picked out – Frosted Chocolate Cupcake Tops! These cookies are moist, chocolatey and best of all are covered in creamy chocolate frosting. Yum! J
These cookies have a cake-like texture and really do taste like frosted cupcake tops. Of course, as good as the cookies are, I think the icing is the best part. I'd never tried a sour cream frosting before, but it is amazing! So creamy and rich. Add some Christmas sprinkles to give the cookies a festive touch, and you've got the perfect holiday treat!
<
Chocolate Covered Cupcake Tops Recipe
Soft cupcake top cookies frosted with chocolate icing
Ingredients
For the cookies:

1¾

cups

all-purpose flour

2

tbsp.

unsweetened cocoa powder

½

tsp.

baking soda

½

tsp.

salt

½

tsp.

espresso powder

2

oz.

unsweetened chocolate

,

finely chopped

8

tbsp.

1 stick unsalted butter, at room temperature

1

cup

sugar

1

large egg

1

tsp.

vanilla extract

¾

cup

buttermilk

For the frosting:

1

cup

bittersweet chocolate chips

1/3

cup

plus 1 tbsp. sour cream

1

cup

confectioners' sugar

,

sifted
Instructions
For the Cookies:

Preheat the oven to 375˚ F. Line baking sheets with parchment paper and set aside.

In a medium bowl, whisk together the flour, cocoa powder, baking soda, salt and espresso powder and set aside. Place the chopped chocolate in a heatproof bowl and melt over a pot of simmering water (or in short intervals in the microwave) until smooth. Set aside and let cool until just barely warm.

In the bowl of an electric mixer, combine the butter and sugar and beat on medium-high speed until light and fluffy, about 2 minutes. Beat in the egg and vanilla. Beat in the melted chocolate until smooth. With the mixer on low speed, add in half of the dry ingredients, mixing just until incorporated. Mix in the buttermilk and mix then mix in the remaining dry ingredients.

Drop the dough in spoonfuls onto the prepared baking sheets, about 1½ tablespoons per cookie. Bake 8-10 minutes, just until set, rotating the pans halfway through baking. Let cool on the baking sheet about 2 minutes then transfer to a wire rack to cool.

For the frosting:

Place the chocolate chips in a heatproof bowl. Melt over a pan of simmering water or in the microwave in short intervals, stirring until smooth.

Stir in the sour cream. Whisk in the confectioners' sugar until the mixture is smooth and glossy. If necessary adjust the consistency with additional confectioners' sugar to thicken or sour cream to thin it out.

Frost cookies as desired and decorate with sprinkles.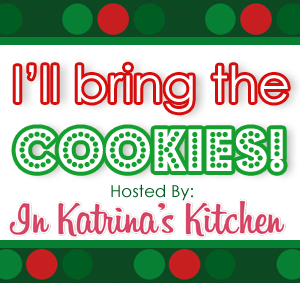 Click image to see all of the cookies shared.
This is seriously going to save me some secret, turn-away-from-my-kids type eating. Thank you to Megan for bringing the cookies! You will love Megan's blog if you are not already visiting her regularly. Here's a little sampling: Flaky Peppermint Creme Filled Cookies, Pumpkin Spice Pancakes, and Glazed Apple Cinnamon Bread. Yum, yum, and yum!