Chocolate Coated Marshmallow Red Velvet Cookies
GUEST POST: Chocolate Coated Marshmallow Red Velvet Cookies from I am Baker
I am so honored to be a part of Miss Katrina's Holiday event, I'll Bring the Cookies. I totally adore Katrina and would do anything she asked of me, so lets just hope she doesn't ask for my next born or something. 😉
These sugar cookies covered in a soft gooey marshmallow coated in creamy dreamy chocolate are delicious. I had a hard time saving some for the family!
I whipped up at batch of Red Velvet Sugar Cookie and cut out 2-inch circles with a cookie cutter. About two minutes before the cookies were done, I took the pan out and dropped a marshmallow on top. The marshmallow had been cut in half to make the cookie more uniform looking. I put the pan back into the oven for 2 minutes until the marshmallows were soft but not browned, then set them aside to cool. Then I simply coated the cookies in red, white, and green candy melts!
Chocolate Candy Coating
Thin your chocolate to dip cookies in candy coating
Ingredients
1

cup

candy melts

,

can be found at Walmart or most craft stores

3-4

tablespoons

of shortening

microwave safe container

Sprinkles

,

optional
Instructions
Place candy and shortening into microwave safe container (I found that an old cottage cheese container worked the best!) and melt for one minute. Remove and stir, then place back in the microwave for 30-second increments.

Once the chocolates are mostly melted, remove and stir to reach desired consistency. I wanted the chocolate pretty runny to make covering the cookies easier, so I added a bit more shortening. Just drop it in and stir into the heated chocolate until dissolved.
If you want to add sprinkles, do so right after coating cookies in chocolate to ensure the sprinkles stick. You can use my original Red Velvet Sugar Cookie recipe, or your favorite Sugar Cookie recipe and just add red food coloring. I used large marshmallows (not the extra large!) and just pushed them down a bit after heating to spread over the cookie. If you have any questions, please just leave a comment and I will be happy to assist! Thanks so much for letting me be a part of your event Katrina!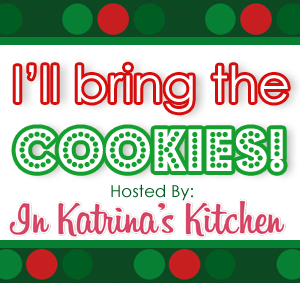 Click image for all #BringtheCOOKIES and Giveaways
I had the privilege of hanging out with Amanda this summer in Chicago as part of the Verizon Wireless Savvy Gourmet Bloggers when they gave us a Xyboard tablet and LG Intuition phone/tablet to play with. Let me just tell you that I made a total fool of myself. I mean as everyone else was paying attention to the speaker and learning how to use their devices I was busy taking pictures of Amanda's sunglasses, people. True story. But for some reason she still likes me even though I professed my extreme blog crush on her again and again. She didn't even make fun of me when I lost my rental car in the underground parking garage.
Be sure to connect with Amanda on Facebook, Twitter, Pinterest, and her blog I am Baker
Some more delicious cookies from Amanda:
Oatmeal Cherry Morsel Cookies
Rose Cookie
Ugly Christmas Sweater Cookies
And here is a very helpful post for this time of year:
How To Package and Ship Cookies
Thank you, Amanda!
Disclosure: I am participating in the Verizon Wireless Midwest Savvy Gourmets program and have been provided with a wireless device and six months of service in exchange for my honest opinions about the product. I was not compensated for a positive review.